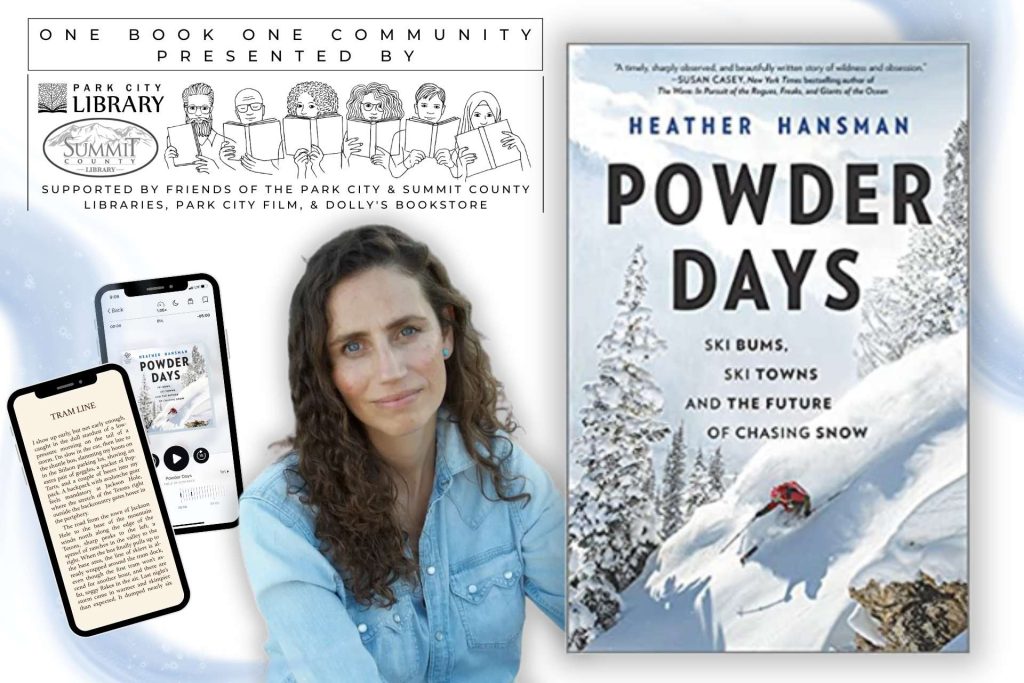 Park City Library and Summit County Library present One Book One Community's 2023 book Powder Days: Ski Bums, Ski Towns, and the Future of Chasing Snow by Heather Hansman.
One Book One Community is supported by Friends of the Park City Library, Friends of the Summit County Library, Park City Film, and Dolly's Bookstore.
Powder Days is available as a physical book at each library, as an ebook and euadiobook on Libby, and available for purchase at Dolly's Bookstore.
One Book One Community Events
Main Event with Author Heather Hansman
Tuesday, August 29th, 7pm, at Park City Library
Celebrate this year's One Book One Community at the main event where Heather Hansman will talk and sign books. Books will be available to purchase from Dolly's Bookstore.
Ski Bum

with Colin Clancy

Thursday, August 17th, 7pm, at Summit County Library, Kimball Junction Branch

Author Colin Clancy will discuss his debut novel, Ski Bum, a coming-of-age story set among the slopes.
Book Discussion
Tuesday, August 22nd, 12pm, at Park City Library
Discuss key concepts in the book with a panel of community leaders. Refreshments provided.
Film Screening
Friday, August 25th, 7pm, at Park City Library
A free film screening of Swift, Silent, and Deep and Q&A with the filmmaker. In partnership with Park City Film.
Why
Powder Days

?
'Powder Days' is an honest look at whether it's still possible to be a ski bum.

Outside
Why was this book picked for this year's One Book One Community? Kate Mapp, Park City's Adult Services Librarian shares her thoughts – "Powder Days is a timely book about how ski towns are changing around the West. Hansman explores environmental concerns, exorbitant housing costs, social equity, changing resort business models, and mental health that worry ski towns today. Park City is at the epicenter of all these topics which Hansman explores and reflects on. Every year Summit County and Park City Librarians select a book that speaks to the community, this book does just that. Join us in exploring how Hansman's book relates to our community by reading and participating in the coming events in August."
Synopsis of
Powder Days
An electrifying adventure into the rich history of skiing and the modern heart of ski-bum culture, from one of America's most preeminent ski journalists.

The story of skiing is, in many ways, the story of America itself. Blossoming from the Tenth Mountain Division in World War II, the sport took hold across the country, driven by adventurers seeking the rush of freedom that only cold mountain air could provide. As skiing gained in popularity, mom-and-pop backcountry hills gave way to groomed trails and eventually the megaresorts of today. Along the way, the pioneers and diehards—the ski bums—remained the beating heart of the scene.

Veteran ski journalist and former ski bum Heather Hansman takes readers on an exhilarating journey into the hidden history of American skiing, offering a glimpse into an underexplored subculture from the perspective of a true insider. Hopping from Vermont to Colorado, Montana to West Virginia, Hansman profiles the people who have built their lives around a cold-weather obsession. Along the way she reckons with skiing's problematic elements and investigates how the sport is evolving in the face of the existential threat of climate change.
About Heather
Heather Hansman is a freelance writer and editor. She writes about a range of things, from butchers to birth control, but, to generalize, most of what she covers happens outside. She likes the intersection of science, adventure, and culture. She's the environmental colomnist for Outside online, and she writes for places like The Guardian, Sierra, and The New York Times.
Her new book "Powder Days: Ski Bums, Ski Towns, and the Future of Chasing Snow" was released in November of 2021. It's about the fantasy of living the ski bum dream, and why it's not always as dreamy as it seems.
Her first book "Downriver: into the Future of Water in the West" about her trip down the length of the Green River, and the water system in the Western U.S., was published by the University of Chicago Press in 2019.
She's been recognized for both her writing and my social (media) skills. Her essay "Lighthouse for Sale" was a notable in the "2015 Best American Essays" book, She won the 2010 Thompson Award for Western Writing for my story about declining livestock prices, "The Cost of Sheep," and the "Ski Town Throwdown," a Facebook campaign she ran at Powder, won a 2013 Maggie for best use of social media.