Art Exhibits at the Library
Art fosters creativity and inspires curiosity.
Visit our exhibitions throughout the first and second floors.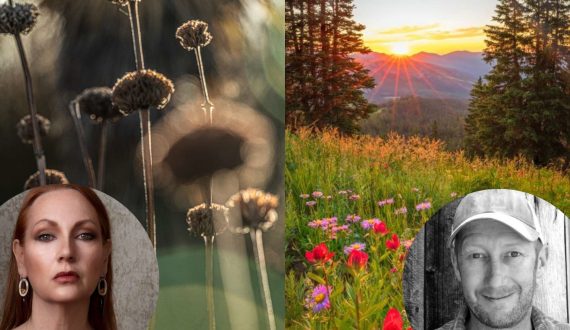 Deborah DeKoff and Johnny Adolphson, March 13th through May 25th.
Art Reception, 3/25, 3pm-5pm
Meet and mingle with photographers Deborah Dekoff & Johnny Adolphson.
Their art exhibit will run March 13th through May 25th.
About Deborah DeKoff:
Deborah is an intrepid explorer and as such, ventures out frequently with cameras in hand. With an open mind and wandering eye, she searches for the gifts of nature both in the Wasatch Back and in her travels.
Strong compositions, the play of light, shadow, and color; and the ephemeral are found in Deborah's images.
From abandoned structures, rusty vintage autos, and gorgeous landscapes, fleeting time stands still to be held forever in a photograph.
Recognized for strong composition in black and white imagery by Kodak spurred her on to capture images for over four decades. Her award winning work has been published in a multitude of magazines and is on display in private collections.
Currently, Deborah is a staff photographer for four regional publications and is Park City Photographers.
Deborah can be contacted through: https://www.parkcityphotographers.com
About Johnny Adolphson:
Johnny Adolphson is a fine art landscape photographer, photography workshop instructor and photography guide, a skier, a climber, a husband and a father of two boys based in Heber.
His photography is dedicated to capturing the beauty of the American West. Johnny is snapping away as life unfolds before his eyes. He considers himself fortunate to live in Utah where the mountains meet the desert and he's always exploring and searching for new views and vision. His passion for the outdoors drives Johnny to wake up early and greet the day. Photography is the medium he chooses to share his experience and the beauty of the world how he sees it.
You can purchase Johnny's work printed on canvas, acrylic, Chromalux metal and paper. He works directly with a local print lab choosing the media type and the  frame for each image that he sells.
Johnny can be contacted through: https://www.johnnyadolphsonphotography.com, 435-671-2374, 435-671-8140.
The call for entries is now closed. We hope to start reaching out to selected artists starting the week of January 16th. We will reopen the next call for entries in late 2023 or early 2024. Check back here for updates. 
Exhibits are chosen by a committee according to the needs and interests of the community, the variety of shows, the artistic quality of the works, and the suitability of format for the Park City Library's physical space. The Park City Library is interested in submissions that include a single or variety of 2D mediums, shows that consistent single artist or a consortium of artists, art can either be solely for exhibition or sale. If you wish for your art to be considered for exhibition, please read the following information and instructions. At this time the Park City Library can only accommodate two-dimensional artwork.
All submissions must include an artist portfolio and fill out online art exhibit application form. The artist portfolio should include 10-20 images of work that can be exhibited as a unit. Images should be well-lighted with artwork photographed against a neutral background. Please include information about the dimensions of each work in the image descriptions. Only submit one application per call for entry period. View the Park City Art Exhibition Policy  on page 19 for more information.
Artists will receive notification of acceptance or rejection within six weeks following the deadline.

WHEN A SUBMISSION IS ACCEPTED
Artwork may be displayed for up to a 3 month period. We typically have exhibition timespans that align with the seasons (Summer, Fall, Winter, Spring).
All artwork will remain on exhibit for the duration of the show.
Prior to the show, the artist will meet with a library representative to go over the following:

View the exhibit space and answer any questions.
Review exhibit policies and procedures (information packet and exhibition agreement-contract).
Sign the exhibition agreement-contract

The Artist will be responsible for hanging the artwork. Artwork must be wired and ready for hanging on preinstalled art rail throughout the library.
The Artist will provide a list of all artwork including title, medium, and date for each item prior to the exhibit. The Park City Library will produce a label for each piece. The Library does not print prices on artwork labels.
The Artist will provide the Library with high-resolution digital images for use in promotion of the exhibition.
All sales inquiries are referred to the artist or their representative; The Park City Library does not facilitate sales transactions.
The Park City Library may exhibit work by more than one artist at a time.