Art Exhibits at the Library
Art fosters creativity and inspires curiosity.
Visit our exhibitions throughout the first and second floors.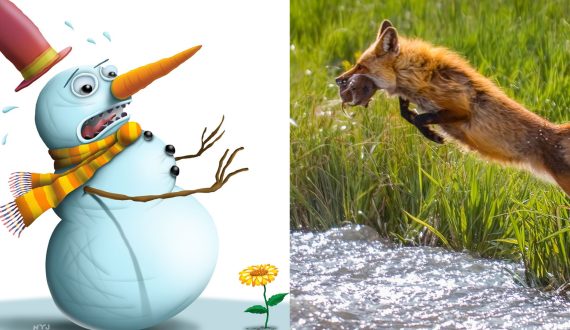 Nathan Jarvis and Park City Photography Club, 12/15-2/20
Park City Library is pleased to present the art of Nathan Jarvis and Park City Photography Club this winter. 
Nathan Jarvis' illustrations can be found on the first floor of the Library in the children's section. Park City Photography Club's work can be found on the second floor.
About Nathan Jarvis: 
Nathan Y Jarvis is an internationally known, award-winning artist. His playful illustrations have entertained, inspired, and educated children, adults, and businesses for over 40 years. He is a certified Professional Ski Instructors of America (PSIA) instructor, Children's Specialist, Staff Trainer at Park City Mountain Resort, and member of the PSIA-AASI Intermountain Region Board of Directors. Nathan has also taught classes and camps for The Compass and Kimball Art Center. He is the owner of Smartful Kids (smartfulkids.com), and co-creator with Olympian Libby Ludlow of award-winning A-B-Skis and Goodnight Chairlift. He is the dedicated husband of one, father of five, Opa of eight, and currently resides in Heber City, UT.
Nathan's client list includes Highlights for Children, The New York Times, General Mills, Target, PSIA-AASI, Children's Television Workshop, Hallmark Cards, Houghton Mifflin Harcourt, McGraw Hill, Macmillan, Oxford University Press, National Geographic, FedEx, AshBritt, and dozens of dozens of less know but not less import others.
About the Park City Photography Club: 
The Park City Photography Club welcomes members from beginners to professionals and from all walks of life. The club meets at the Library on the third Monday of each month at 6;30pm, in Room 101. (Please join if you are interested!)
The Club is run by David Breslauer, a former photojournalist, who still likes to learn about and share photography.
Each month, the club learns about new photography techniques and critique each other's images in a positive, supportive atmosphere in the spirit of improving skills. It is a relaxed environment to as questions and explore topics of interest. More experienced members offer help to newer photographers. All makes and types of cameras are welcome.
This year, many Park City Photography Club members took multiple awards at the Utah State Fair.
Find the club on Facebook by searching Park City Photography Club.
The call for entries is now closed. We hope to start reaching out to selected artists starting the week of January 16th. We will reopen the next call for entries in late 2023 or early 2024. Check back here for updates. 
Exhibits are chosen by a committee according to the needs and interests of the community, the variety of shows, the artistic quality of the works, and the suitability of format for the Park City Library's physical space. The Park City Library is interested in submissions that include a single or variety of 2D mediums, shows that consistent single artist or a consortium of artists, art can either be solely for exhibition or sale. If you wish for your art to be considered for exhibition, please read the following information and instructions. At this time the Park City Library can only accommodate two-dimensional artwork.
All submissions must include an artist portfolio and fill out online art exhibit application form. The artist portfolio should include 10-20 images of work that can be exhibited as a unit. Images should be well-lighted with artwork photographed against a neutral background. Please include information about the dimensions of each work in the image descriptions. Only submit one application per call for entry period. View the Park City Art Exhibition Policy  on page 19 for more information.
Artists will receive notification of acceptance or rejection within six weeks following the deadline.

WHEN A SUBMISSION IS ACCEPTED
Artwork may be displayed for up to a 3 month period. We typically have exhibition timespans that align with the seasons (Summer, Fall, Winter, Spring).
All artwork will remain on exhibit for the duration of the show.
Prior to the show, the artist will meet with a library representative to go over the following:

View the exhibit space and answer any questions.
Review exhibit policies and procedures (information packet and exhibition agreement-contract).
Sign the exhibition agreement-contract

The Artist will be responsible for hanging the artwork. Artwork must be wired and ready for hanging on preinstalled art rail throughout the library.
The Artist will provide a list of all artwork including title, medium, and date for each item prior to the exhibit. The Park City Library will produce a label for each piece. The Library does not print prices on artwork labels.
The Artist will provide the Library with high-resolution digital images for use in promotion of the exhibition.
All sales inquiries are referred to the artist or their representative; The Park City Library does not facilitate sales transactions.
The Park City Library may exhibit work by more than one artist at a time.